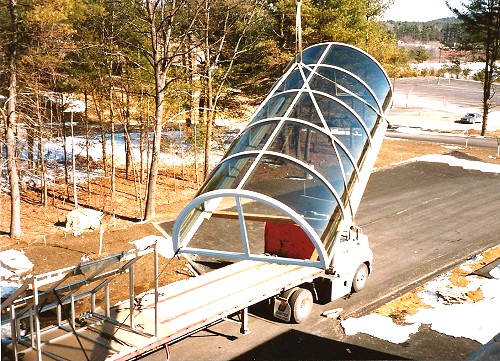 Portal Metal Products was incorporated in Massachusetts in 1972 by Richard Naisuler and his father, Harry Naisuler. Working out of temporary office space, extrusion die drawings were made for a line of commercial aluminum doors, frames, and stock lengths. In 1973, a 20,000 sq. ft. warehouse/manufacturing facility was built to house the new business in Avon, Massachusetts.
With only two employees, Richard and Harry, the business opened in the summer of 1973. Harry and Richard's prior experience in the store front and extrusion business allowed it to steadily grow every year, until 1980 when they introduced a product line of 2 ½" projected
and fixed aluminum windows to accompany their store fronts. Sales continued to climb and in 1985, another product line was introduced which required a 32,000 sq. ft. addition to the building. This was their 3 ¼" double hung, single hung, sliding, and fixed windows. In 1988, a line of vinyl windows was also added and the company name was changed to PORTAL, Inc. dropping the Metal Products portion.
In 1994, Richard's son, Erik graduated from college and took a permanent position with PORTAL and progressed from being an estimator to a position of Vice President. In 1995, Harry Naisuler passed away. Shortly afterwards, a sister company was formed in the name of National Store Fronts Co., Inc. The product line was split so that PORTAL fabricated window products and National fabricated storefront products. This is how it has remained until the present.
In 2013, National Store Fronts was merged into Portal, Inc. and Erik became President of the corporation. Today the company employs greater than 50 people, purchases many truckloads of pre-finished aluminum extrusions and sheet glass per year, to fabricate and sell the above-mentioned products. Other products such as barrel-vaults, skylites, and curtain wall are also available. The majority of the finished products are delivered on PORTAL's own trucks to glazing contractors in the greater northeast.